Precast and pre-stressed concrete can come in many different configurations depending on the intended end use and the engineer's design, so Shuttlelift offers four different models of industrial mobile gantry cranes to make sure customers get a perfect fit for any job. In Part 2 of our three-part series, we discussed how Shuttlelift overhead gantry cranes could be used to handle precast double tees and wall panels used in parking garages and commercial buildings. Today, we will look at precast concrete drainage structures such as box culverts and catch basins.
Box Culverts
Four-sided box culverts are one of the most common and versatile precast concrete drainage components used on the market. Their U-shaped bottom and U-shaped top sections provide the durability and strength to withstand volumes of water and other conditions for a variety of applications including subways, bridges, industrial waste, underpasses, tunnels, and much more.
With the common box sizes in the market today, the SB Series rubber-tired gantry crane is an ideal lifting solution for the job. Shuttlelift's SB RTG overhead cranes feature a single traversing beam and single hook along with standard radio remote, making it much more efficient to transport small and balanced square elements such as these.
The SB Series cranes can also be used in the field to span a trench and set the culverts in place. The product can easily be transported around your yard, without the operator having to decipher complicated load charts, and eliminates the need for extra handling equipment. A small spreader bar can also be added to the SB gantry crane to provide unlimited versatility.
Catch Basins
Precast catch basins are designed and engineered to collect excess rain and stormwater while allowing solids and other debris to settle out to the bottom of the basin.  They are equipped with an outlet pipe located above the settled debris allowing water to flow out of the structure.  They are manufactured in a variety of shapes and sizes to meet both state and local standards and are customizable to just about any job.
As is the case with handling box culverts, the SB industrial crane from Shuttlelift is an optimal lifting solution for picking and carrying catch basin and manhole style structures. The aisles in a yard don't need to be as wide as using fork trucks, thus giving you maximum storage space and a crane to cover every square inch of your yard.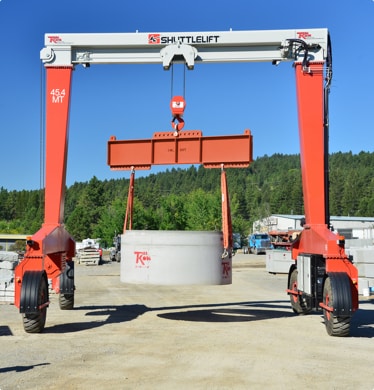 Because of the varying shape and size of this product, the DB Series (double beam) gantry crane may better suit certain operations. A spreader bar with sliding pick points will ensure you are able to lift all of your product safely and efficiently, and the DB offers the same traversing capabilities and standard remote feature as the SB.
Shuttlelift offers innovative lifting solutions for a number of other precast concrete products and industrial applications. Don't see yours listed on our website? Contact one of our Sales Managers today to see how we can provide a custom gantry crane solution built to your exact specifications.